This is my entry into an excellent competition being run by @whatsup.  If you don't know who @whatsup is, he's a very active Steemit user who works hard to increase the level of engagement we see on our posts. He also creates consistently interesting content, so check him out.
This competition is quite simply telling your story as to how you came across Steemit and your experience to date on the platform. So here's my little tale.
Finding Steemit
I heard about Bitcoin back around 2012 when it reached $20 and hit the mainstream media for this price rise. I was working on a mine site and thought I'd grab $1000 worth as soon as I got to my computer.
As with many people, I forgot about it, and never bought a single coin. So when cryptocurrency started getting back into the media in October 2017, I remembered hearing about Bitcoin back in 2012 and kicked myself very hard for not buying $1000 worth back then. In 2012, $1000 worth of bitcoin would have bought me 50 coins, and 50 coins when Bitcoin reached its' peak of $20,000 would have been worth $1,000,000. I could have quite literally become a millionaire with an investment of $1000.
As a result of recognising this missed opportunity, I started researching the cryptocurrencies a little more deeply. I was reading blogs, listening to podcasts, and watching various YouTube videos on the topic. Eventually, I stumbled across a podcast by Chris Coney (@marketingmonk) where he was discussing Steemit and other currencies.
Naturally, being someone who enjoys writing, I headed straight over to Steemit and created an account.  I didn't even browse the posts on Steemit before creating an account, and if I'm honest, that's probably a good thing.  Many a content creator could easily be scared away if they looked at the posts under the "new" tab and even the trending tab for that matter.
My Steemit Journey so far
I didn't take Steemit all that seriously when I first started.  Initially, I just wanted to see how easy it was to earn some free crypto. So I was posting what can only be considered rubbish. In time though, I started taking the platform a little more seriously and started to think more seriously about the type of content that I wanted to produce and the topics that I wanted to discuss on my blog.
I started writing about wildlife photography, beer, wine, my early research into cryptocurrencies and a few other topics.  I started entering writing competitions and writing about very personal stories and experiences.
When the crypto market went through the highs of late 2017 I started pumping out as many as 5 posts a day on Steemit and it was at this time that I discovered what it was like to be a shit poster. My content wasn't great and my posts were only taking a few minutes to produce. Thankfully, I started questioning what I wanted to be known for on Steemit, so in early 2018 I pulled back on my posting frequency and started caring about the quality of my content.
Over time, my writing style has evolved and become more structured. I've started learning about the strategies that can be used to increase engagement if that's what I'm after or simply how to properly structure a post in order to communicate your chosen message.
And I haven't just produced written material over this time. I've even tried my hand at creating videos on DTube which is something that I never before would have done had it not been for some encouragement from a fellow Steemit user and a curiosity to see if I could actually do it.
And when it comes to Steemit, there are many ways to earn your currency.  A few months ago I launched Steemit Shop Australia, which was an online store that sold Steemit and DTube merchandise. People could pay in Steem and SBD if they chose to, and many people did.  The store was fantastic, but sadly wasn't earning enough to maintain itself. So I have closed the store for the time being with plans to open a new one in the coming weeks. You can still by merchandise from me though, check out the post I wrote about this yesterday. One of the coolest things about my shop is seeing people all over the world wearing my merchandise (check the shirt that @snook is wearing in her video, here, that's one of mine).  It's been amazing to see just how far reaching this little shop that I built one night over a few beers has reached.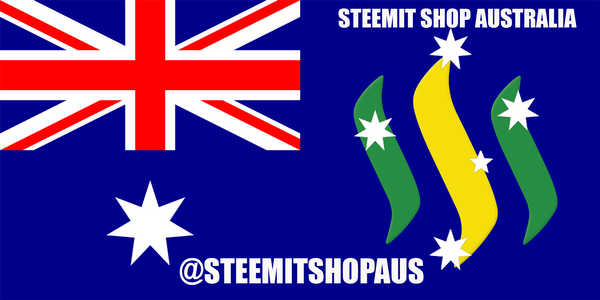 I was even involved in the creation of @blockdeals, which was a deals and coupon listing platform built on the Steem Blockchain. This is an awesome use of the Steem Blockchain where users can be rewarded for finding awesome deals and coupons, and sharing them with the community. Through their sharing of these deals, the user gets rewarded in Steem and SBD. So, in theory, a person could earn enough currency to buy the product they find if the community likes their post enough. We were unable to get the delegation needed to make this project a success though. So the team has disbanded. There is hope though, I don't think the devs have entirely given up on the project so we may see something come of it yet.
And through my writing posts and engaging with other Steemit users, I  stumbled across some fellow Australians on Steemit and was invited to join the #TeamAustralia community. This proved to be an excellent decision as I've since met a number of Steemit users face to face at meet ups in Melbourne and even a couple of Steemit users in Adelaide.
So lets summarise my mistakes on Steemit to date and the things I'm glad I did and experienced and will continue doing.
My mistakes
Cashing out my earnings early on. Don't do it, power up everything. I'd be at more than 2000 SP by now if I hadn't tried my hand at trading on the exchanges with the Steem and SBD that I made in the early days.
Shit posting – just don't do it. It ruins your reputation as a content creator and it can be hard to earn the the respect and trust of your fellow Steemians if you become known for it.
Things I'd do again and keep doing
Going out of my way to meet people, both online and in real life. I've met so many amazing people on Steemit so far, and continue to do so.
Having a big focus on creating quality content rather than a vast quantity of content.  It doesn't matter if your earnings are a little less, your followers will appreciate you all the more if they see you care about quality over quantity.
Entering as many competitions as possible. Getting your content in front of new people through competitions is one of the best things you can do. Plus the prizes can be great.
Getting out of my comfort zone and making videos on DTube.
Getting involved in new projects on the Steemit and the Blockchain.  My online shop and @blockdeals were both excellent things to create and be involved in. And my online store will definitely be live again soon.
The Future
Right now, I'm trying out @steempress for my blogging and have returned to creating written content rather than blogging.  I'm also spending a large amount of time researching cryptocurrencies and the various ways in which we can invest in them.
This is partly so that I can diversify my cryptocurrency holdings but also so that I can help others learn about this little world of ours.
I'll probably continue to create video content, but for the time being I'm enjoying writing again. It's what I do best.
And of course, I'll be releasing my new store in the future as well, which will hopefully stock some different products from what I have listed previously.